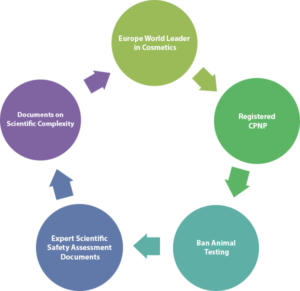 Imagine saving endless hours of tedious work by letting Cosmetic Answers compile your information quickly while saving your business time and money.
What We Do
Help cosmetic manufacturers assemble every required document necessary to meet the compliance of the EU Cosmetic Directive.
Europe prides itself on being one of the largest exporters of cosmetics,and is adamant that every cosmetic put on a shelf in the European Market is safe for humans to use under normal circumstances. Cosmetic Answers allows manufactures to relax by gathering all data and delivering it as one document. Under the EU Cosmetic Directive and based on the product, there are specific rules manufactures must follow to place their product on the market.These include but are not limited to: Information regarding cosmetic substances and ingredients; legal requirements and limitations; Registration to the Cosmetic Products Notification Portal; specific attention to products with potential health risks; and required documentation proving no animal testing occurred.
Bringing everything to you!
Completed Product Information Files.

Point of Contact Information for all Third party Vendors

Instructions to update information
Why Choose us?
Save cosmetic manufacturers millions (thousands?) of dollars in salaries.

Save Time

Monthly Retainer Option

Help cosmetic manufacturers bring more products to market

Innovative Services
Providing exceptional consumer service to the health & beauty industry.
45 Ross Road
Savannah Georgia, 31405 
Phone:  912-228-3246
Fax:  888-842-3378 
Email:  tabitha@cosmeticanswers.net